5月9日下午,俄亥俄大学Peter de Boves Harrington教授做客我校"理学之美"前言论坛,在化生楼212做了题为《Single Set Validation for Classification and Calibration Causes False Conclusions》的报告。报告会由化生学院张学记教授主持,院长李正平、副院长曹艳秋及四十余位学生参加本次报告会。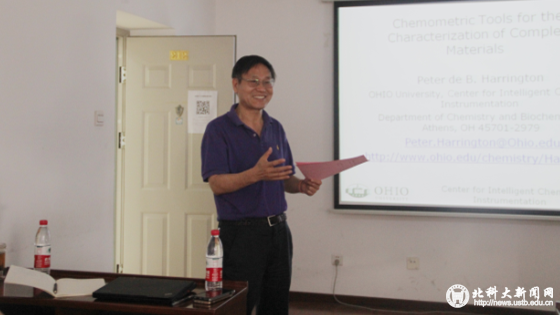 彼得教授报告简介:
In the modern information age, scientists should break from the habit of using single measurements. Surely, with laboratory measurements the measurement is repeated to characterize drifts in the signal when the same sample is collected at different times. The irony is that when using multivariate classification and calibration that may involve sophisticated calculations figures of merit often are based on a single measurement or figure of merit (FOM). The figure of merit often is a single measurement of prediction accuracy or error for a validation set. This approach is wrong, especially in the modern era. It does not make good use of the measurement data which in some case may be obtained from precious samples that are difficult to obtain or measurements made on expensive instruments. In addition, basing a conclusion on a single set of validation data or data point can lead to false inferences about the accuracy of the classification or calibration.
A new approach is advocated to use bootstrapping that efficiently uses all the measurements for validation, provides generalized estimates and confidence bounds about the FOMs. In addition, it provides a conservative measure of the accuracy of the classification or calibration algorithm.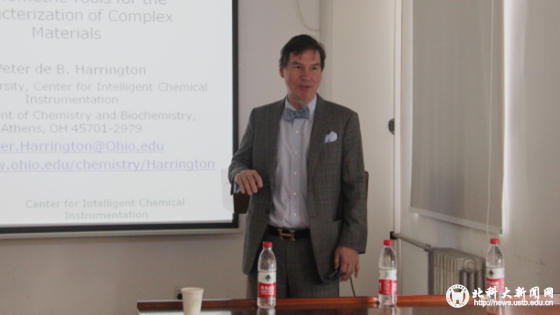 本次报告会中,彼得教授为师生深入浅出地讲解分类和校准的准确性致错的原因,为测量分类或校准算法提供了新思路,使师生受益匪浅。报告会结束后,在场师生以热烈的掌声感谢彼得教授的悉心讲解,彼得教授也应邀参观了我院实验室。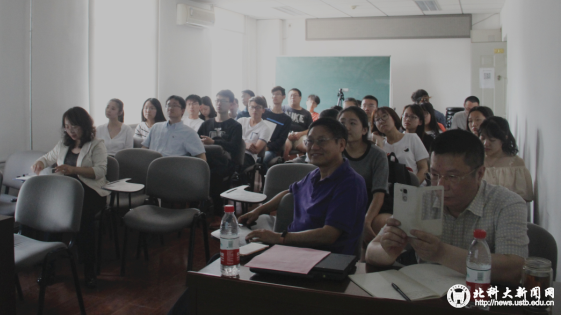 Biography
After graduating with a BS degree in Chemistry from Randolph-Macon College in 1980, Peter worked for Nabisco for 2 years as a flavor chemist where he became interested in analytical chemistry, chemometrics, and the forensic analyses of foods. He then pursued doctoral research in analytical chemistry and machine learning under Tom Isenhour at the University of North Carolina. Afterward, he held a research assistant professor appointment at the Colorado School of Mines for 2 years where he developed algorithms and software for the detection of pathogenic bacteria by pyrolysis-mass spectrometry with Kent Voorhees. In 1989, he began his career at OHIO University. His research combines the areas of chemometrics, forensic, metabolomic, and proteomic analysis. Professor Harrington founded the Center of Intelligent Chemical Instrumentation in 1992 to foster automated chemical instruments and assumed the role of Director in 2002. In 2015, he was recognized as a Fellow of the American Academy of Forensic Sciences. In 2016, he was appointed Editor in Chief of a new journal Investigative Forensic Sciences and earned the CAS distinction for Excellence in Research. He is interested in self-optimizing chemometric algorithms and has devised many chemometric methods; the fuzzy rule-building expert systems (FuRES), the fuzzy optimal associative memories (FOAMs), principal component-orthogonal signal correction (PC-OSC), bootstrapped Latin partitions (BLP), analysis of variance-principal component analysis (ANOVA-PCA), super partial least squares (sPLS), support vector machine trees (SVMTrees) and super support vector regression (sSVR). He has ongoing and seeks new collaborations with many groups and government agencies.
(责编:周悦)